JMEC 22 Winners Announced
JMEC 22 Winners Announced
PRESS RELEASE
For immediate release
JMEC 22 Business Plan Competition Winners Announced
Well-researched and professional business plans wow project clients at annual event
TOKYO, June 7, 2016—The Japan Market Expansion Competition (JMEC) announced the winners of the JMEC 22 program at its annual JMEC Awards Ceremony at the Tokyo American Club.
JMEC Executive Committee Chair Tom Whitson said: "JMEC 22 involved 58 highly motivated Participants from 14 countries who overcame language barriers and other challenges to cooperate in small teams to analyze market opportunities for JMEC Project Clients. They developed realistic business plans to crack the Japanese market—and their commitment and energy made them fun to work with."
A total of 12 Project Clients—including small and medium-sized enterprises (SMEs), entrepreneurs and global companies—commissioned business plans tailored to their specific needs, for a very reasonable price. Some of Tokyo's most successful foreign managers and business professionals trained, mentored and advised the teams as they developed their plans. Early feedback from Project Clients showed their appreciation for the high-quality plans they received.
"Team A" won the 1st Prize of the JMEC 22 competition with a potential new venture project for Fusion Systems. In addition to producing a complete professional written business plan, each team also makes an oral presentation of their plan to the JMEC judging panel. "This was overall a very impressive plan, and a well-rehearsed and delivered oral presentation" the judges said in their comments.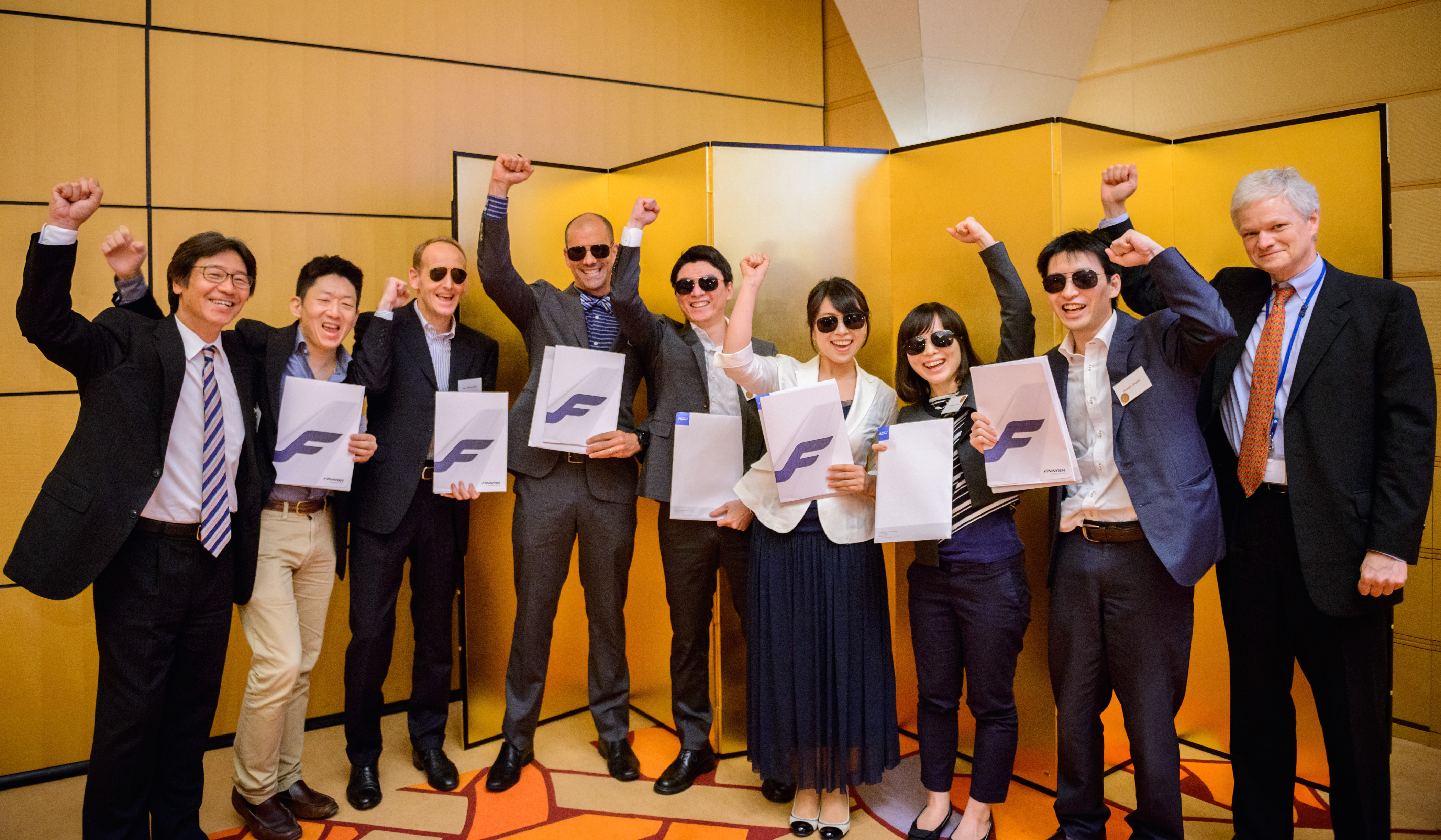 Mike Alfant, CEO of the Fusion Systems Group, said: "We have worked with JMEC in the past and again wanted to gain insights into the Japanese market and get a fresh perspective. With the internet and new business models evolving at a faster clip than before, we reached out to JMEC to help us pursue a new business idea. The JMEC teams provided over a thousand hours of research and analysis that we (our company) do not have to pursue an idea. The JMEC team provided both Western and Japanese insights into the collected data."
Team "Happy Hippies" won the 2nd Prize of the competition with a market entry business plan for their Project Client, ARDO, a leading European fresh frozen vegetables and herbs producer headquartered in Belgium. Said Philiipe van Steene, Head of Business Development & Strategy and Ignace Haspeslagh, International Business Development Director: "Our JMEC team worked hard and put together an excellent business plan document, providing a lot of information and valuable insights on the Japanese frozen vegetables market. The team's research showed that to be successful in Japan we need a very specific approach, time and patience—but also that ultimately quality conscious Japanese customers will be rewarding and loyal in the long term. And we are pleased and congratulate the team on winning the 2nd Prize in the JMEC competition."
"Team 7", 3rd Prize winners of JMEC 22, worked on a project for Impetux Optics S.L., Barcelona, Spain—a provider of highly advanced optical tweezer technology for studying biological processes by allowing manipulation of biomolecules with nanometric precision. Elisabet Romeu Codina, General Manager, said: "We really appreciate having had the opportunity to work with such a professional and great JMEC team, and were happy to learn that they won the 3rd Prize in the competition for their excellent efforts. The business plan we received provided valuable data and information about the Japanese market for our advanced, patented optical tweezer technology—and recommended strategies for how to best position ourselves for further expansion in this market."
Siemens K.K. was also a Project Client in JMEC 22, its second JMEC project in 3 years. This time their JMEC team, "GC Squad", was tasked with developing a feasibility study for a potential hydrogen business. To express its satisfaction with the team's work and business plan, Siemens issued a 'Certificate of Appreciation' to each team member in which Helmut Wenisch, Head of Corporate Technology, stated, in part: "The team explored the overall market potential, possible competitors and partners. The result was a detailed, Japan-specific road map for how to enter and grow the market in the coming years. It was supported by extensive financial calculations as well as data collection from interviews and collected statistics. Siemens K.K. was impressed by the breadth and quality of the analysis, and the team's ability to understand complex technical topics."
The EU-Japan Centre for Industrial Cooperation (EUJC) in Tokyo sponsored three of the projects in the JMEC 22 competition. Deputy General Manager Fabrizio Mura of the EUJC said this about
the sponsored projects: "We need JMEC to get a detailed market entry plan for highly motivated European SMEs with advanced technologies and services—plus an overall analysis of the relevant market segments that will help other SMEs looking for advice on the Japanese market in these industries, and which will be posted on our mainstream EUBusinessInJapan.eu portal."
JMEC's three judges reviewed the plans and presentations from each team. According to JMEC judge Debbie Howard, it was again a close contest and the oral presentations were a very important factor to determine the top three plans.
Prizes awarded include return airline tickets from Finnair for the first-place team; HP ElitePad tablets from Hewlett-Packard, stylish bags from Endeavor SBC Co., Ltd, and a one-year free annual membership of the ACCJ for all members of the top three winning teams. Judge Rike Wootten added that, based on what the JMEC participants had learned about business planning skills and themselves, they were all clear winners.
Over 200 guests—including senior business executives and leading officials from a number of embassies and foreign chambers of commerce in Japan—attended the Awards Ceremony and enjoyed drinks and a nice buffet provided by the Tokyo American Club. Many bought raffle tickets and auction items to raise money for JMEC 23.
Founded in 1993 by the Australian and New Zealand Chamber of Commerce in Japan, JMEC is a non-profit business planning skills-development training program supported by 18 foreign chambers of commerce in Japan. Over the past 22 years, JMEC has trained more than 1,100 young business professionals, many of whom have gone on to rise in their companies or start their own businesses.
Built around a business plan competition, JMEC provides classroom training followed by hands-on experience for up-and-coming managers living and working in Japan. To date, JMEC has provided over 200 high-quality business plans to help companies entering or expanding in the Japanese market.
JMEC is internationally accredited by Pearson PLC—the world's largest learning company— as a Pearson Assured certified organization. Pearson Assured is an independent certification and international quality benchmark for organizations that design and deliver their own learning programs.
---
The JMEC 23 program will begin in August 2016 with information sessions where potential JMEC Participants can find out more about the JMEC program. Those interested can speak to JMEC Alumni and other potential participants.
For more information about JMEC, please visit: www.jmec.gr.jp/
For media enquiries about JMEC 22, please contact:
Simon Farrell, Custom Media K.K.
Tel: 03-4540-7730
E-mail: simon@custom-media.com
For general enquiries or more information on becoming a JMEC 23 Project Client or Participant, please contact:
Program Director Trond Varlid
Tel: 080-4368-2025
E-mail: info@jmec.gr.jp