JMEC 28th Award Ceremony - Perception and Creativity by Diverse Teams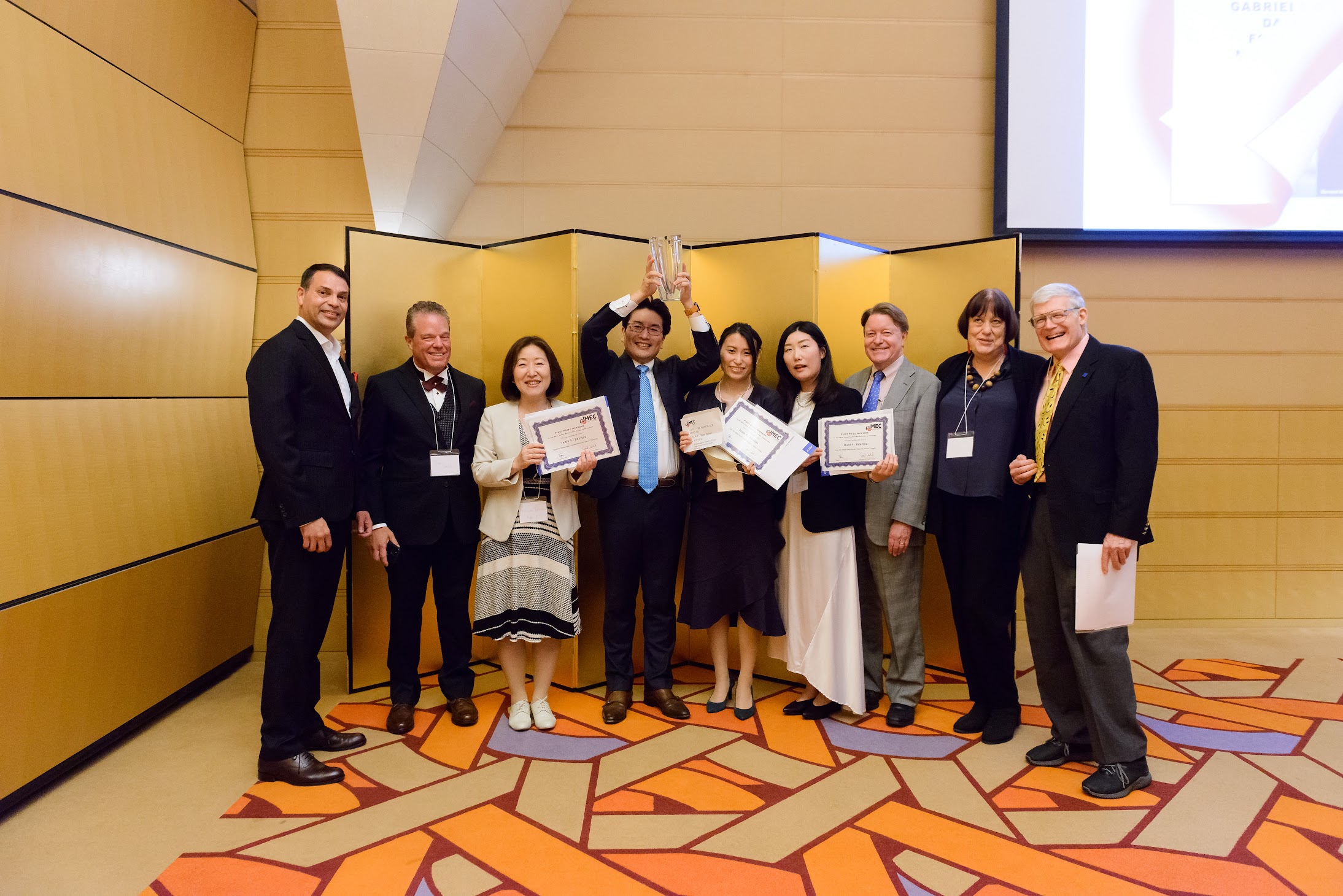 JMEC 28th Award Ceremony - Perception and Creativity by Diverse Teams
PRESS RELEASE
JMEC Reveals Business Plan Winners
Diverse teams show perception and creativity in annual competition
June 18, 2022 (TOKYO)—The Japan Market Expansion Competition (JMEC) announced the winners of its 28th program in an awards ceremony held at Tokyo American Club on June 8.
The ceremony recognized the work of 52 participants from 24 countries. About the efforts of this year's group, JMEC Executive Committee Chairman Tom Whitson said: "Our JMEC teams were again challenged by the continuing pandemic and had to adapt the way they researched and interacted to develop their business plans. But they succeeded! I want to congratulate all the participants for their dedication.
"The plans showed perceptive analysis and creative ideas to help our project clients. You have all truly earned your certificates as graduates of our JMEC business training program. On behalf of the JMEC teams, I want to thank the companies that sponsored projects and to our lecturers, team mentors and consultants, and judges who gave up days of their time to make this program a success."
Twelve project clients—including small and medium-sized enterprises, NPOs, and global companies—commissioned customized business plans from JMEC, at a price well under the market rate. Some of the most successful foreign business leaders in Japan then trained, mentored, and advised participants to develop and present the plans to four senior JMEC judges.
More than 150 people attended the JMEC Awards Ceremony—held for the first time in person since the pandemic—which was followed by a buffet and networking.
The Top Three Prize Winners
JMEC Team 4 won the first prize with their business plan for Advitos, a German company that has produced the world's first single-device, multi-organ treatment method. Martina Petkov, Head of Marketing said: "We are extremely proud of our JMEC team Palette and the great dedication with which they have developed the business plan for ADVITOS' market entry into Japan. Very well-deserved 1st prize! The team did an amazing job in understanding the market specifics for our innovative ADVOS therapy and included recommendations that will provide a solid foundation to build upon our market entry strategy in the future. Our expectations from the program were more than exceeded, and the quality of the research and analysis delivered is excellent."
Team 7 was awarded second prize with a plan for one of Coca-Cola Bottlers Japan, Inc.'s new products. Kimberly Alexander, Vice President and Head of Commercial Capability at Coca-Cola Bottlers Japan Inc., said: "Our JMEC team worked together to create a strong business plan for our product. They took a look with a fresh perspective and uncovered unique insights via research and interviews that enabled solid recommendations and plans. The recommendations were insightful and actionable, and encouraged our company to explore new avenues for expansion in a fast-growing segment."
Team 5 took third prize, having created a business plan for CooperSurgical Japan, a company that makes products that are designed to improve the health of women and babies. President Klaus Jacobsen said: 'This year was the second time we worked with JMEC by formulating a project for which we needed some fresh opinions. From the beginning we were impressed by the enthusiasm and professionalism the JMEC team showed in approaching the project from several angles. The diverse composition of the group led to interesting and constructive discussions and generated many new ideas, which we are sure to use going forward."
Special Mention Awards
Three other teams received special mention awards from the judging panel to recognize outstanding efforts.
Team 1 was given the Best Market Research Award for their dedication to digging into the details for their project client, Experian Japan. Their research helped provide the credit reporting company with key information about the market.
Team 6 won the Best "Big Idea" Award for their insightful work on social media, which they presented to their project client, Animal Refuge Kansai (ARK), an NPO dedicated to protecting neglected and abandoned animals throughout Japan. Team member Christophe Elens said: "The experience is unique. I was impressed by the very good level of the lecturers, and the commitment from all people involved in the JMEC process. This program really allows young potentials to boost their career and objectives, for a very affordable price actually."
Team 9 was presented with the "Unknown Destination" Award for the business plan that they created for Xenon Partners, a software as a service (SaaS) provider. They didn't know the identity of their client until very late in the process of preparing the plan, and worked quickly to update it before presenting.
JMEC Prizes
The first-prize winners won Finnair flight tickets to Europe and a one-year membership of the ACCJ, the second-prize winners won Hewlett Packard laptop PCs and an ACCJ event voucher, and the third-prize winners received stylish satchels from the German brand BREE and an ACCJ event voucher.
About JMEC
Founded in 1993 by the Australian and New Zealand Chamber of Commerce in Japan, JMEC is a non-profit business planning skills–development training program supported by 18 foreign chambers of commerce in Japan. Over the past 28 years, JMEC has trained more than 1,400 young business professionals, many of whom have gone on to rise in their companies or start their own businesses.
Built around a business plan competition, JMEC provides classroom training followed by hands-on experience for up-and-coming managers living and working in Japan. To date, JMEC has provided 286 business plans to help companies enter or expand in the Japanese market.
JMEC is internationally accredited by Pearson PLC—the world's largest learning company—as a Pearson Assured certified organization. Pearson Assured is an independent certification and international quality benchmark for organizations that design and deliver their own learning programs.
JMEC 29
The JMEC 29 program starts in August 2022 with information sessions for potential participants, attended by JMEC staff and alumni. See the website for information session details.
JMEC: www.jmec.gr.jp