Lifelong Takeaways Through JMEC Program*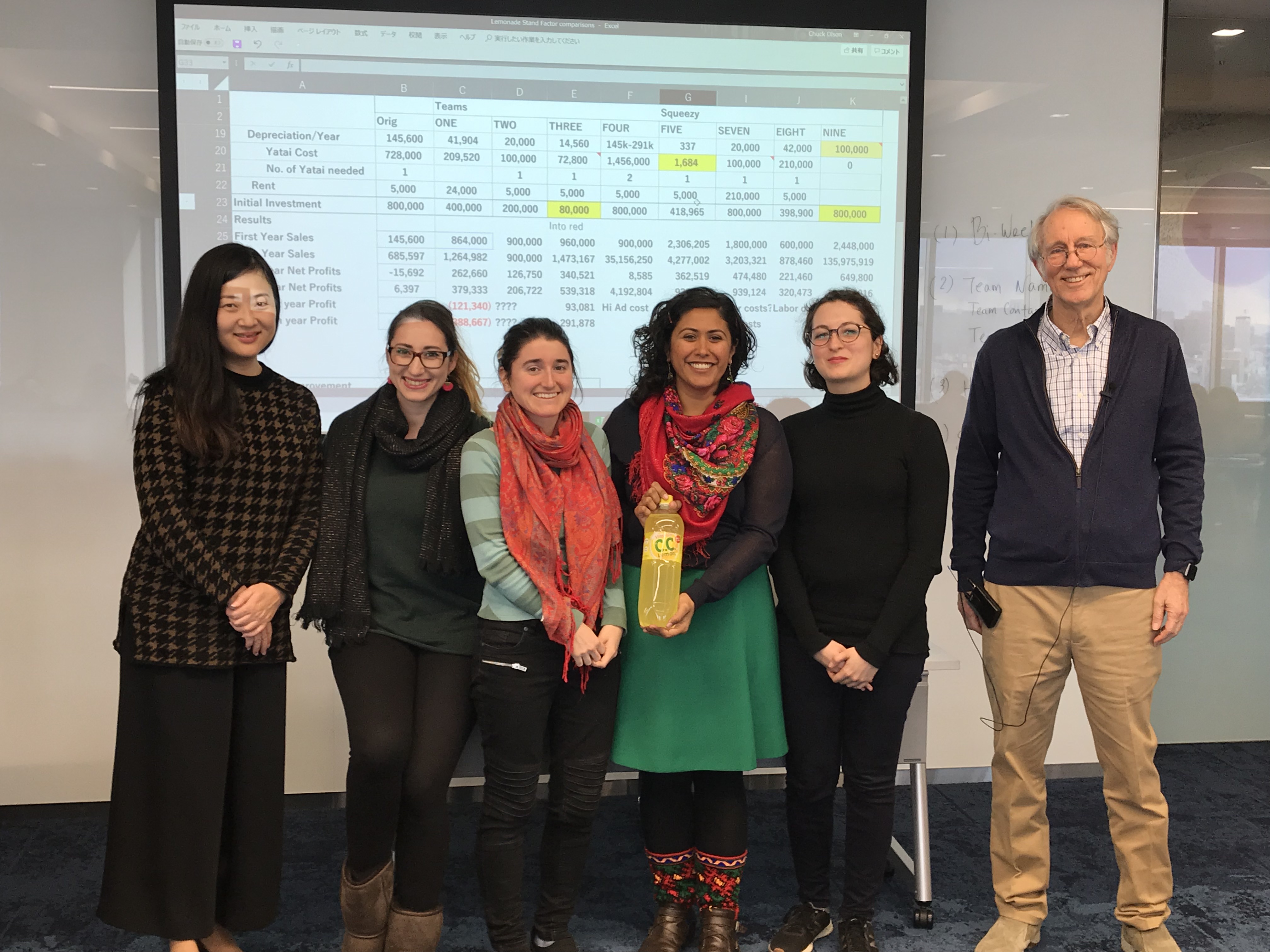 Lifelong Takeaways Through JMEC Program*
FEW (For Empowering Women) Japan scholarship winners, Sabrina Hassnali, Gizem Sakamaki, Kyoko Nagano, and Lindsey Rogerson share their experiences of the JMEC journey.
Why would you give up your weekends for about 8 months, commit 200+ hours of your personal time, and coordinate with a group of 3–4 other working professionals to prepare a business plan for an existing business? Why have over 1,300 people participated in the Japan Market Expansion Competition (JMEC) over the lifetime of the program? Read the takeaways from FEW participants and get ready for the 2019/20 class!
---
Based on the commitment required, JMEC would seem like a tough sell. However, most participants rave about their experiences. Past participants have made lifelong friends, expanded their business networks and connections, launched career changes, and developed new skills.
The JMEC program is often called a 'mini-MBA' and includes theoretical and practical components. Participants begin with eight full Saturdays of interactive lectures covering marketing, finance and doing business in Japan. After that the participants enter a four and a half month practical part where they are grouped with 3–4 fellow participants to research and write a business plan for one of the collaborating business partners. The business plans are assessed against a scorecard and rated for the competition, and the whole team is required to give a 30-minute presentation.
The 25th JMEC program wrapped up on June 5, 2019 with an awards ceremony at the Tokyo American Club, where the winners received roundtrip tickets to Europe. Two-thirds of this year's participants were women, with 14 nationalities represented in the class, and about 40% of participants being foreign nationality.
Check JMEC's article on this year's winners from here!
Strong 'Team FEW' Rocking the Class
Every year FEW awards one full scholarship and three half scholarships to our Members to support their participation in the program. This year, in addition to the four scholarship recipients a couple of other FEW members also took part.
As you can expect, Members were very ambitious and motivated – for example, during one of the finance lessons the participants were given a project called 'The Lemonade Stand.' They were asked to develop a plan for a profitable stand selling lemonade and justify the financial changes made into a standard finances spreadsheet. FEW Members grouped together to complete the project outside the class. The 'Team FEW' coordinated schedules and distances with the JMEC team, and in the end, they were judged to have the most realistic and justified financials for a hypothetical lemonade stand.
The winning FEW financials team from left to right: Kyoko Nagano, Gizem Sakamaki, Lindsey Rogerson, Sabrina Hassanali, Marisa Cassidy, and Chuck Olson – a facilitator for financials class.
Connecting with the Local Business Community
We asked the scholarship receivers for their thoughts on the program, and everyone was more than happy with their takeaways and achievements. According to them, the support from the local business community is what makes the JMEC program remarkable. Expats, entrepreneurs and professionals from various industries impart their valuable first-hand knowledge during the classes.
It is a fantastic way to meet the business community in Japan. JMEC lecturers, participants and supports have great hands-on experience to learn from.

Sabrina Hassanali, who was one of the scholarship receivers
"Our mentor and financial advisor were really important to our team. They helped us deliver a great product," Gizem Sakamaki, who runs her own business in Japan, added.
Producing a business plan for actual businesses adds a real-life challenge where participants need to coordinate with their client and team members. Navigating the quirks of Japanese markets can be a challenge, but the plans can later be used to guide client strategy in Japan.
Expect the unexpected. Regardless of the situation, the key is to get committed to the project.

Kyoko Nagano, entrepreneur and Special Events Director at FEW
"Everyone in JMEC that I've talked to has had a powerful story of change throughout their careers, and I've become so inspired to take on something new," Lindsay Rogerson summed up her takeaways from JMEC.
What is JMEC?
The Japan Market Expansion Competition (JMEC), often called a 'mini-MBA,' is a business training program in Japan designed to foster the development of foreign businesses (project clients) in Japan while strengthening the business skills of up-and-coming executives (participants).
Background
Initiated by the Australian and New Zealand Chamber of Commerce in Japan in 1993, JMEC is based on the New South Wales Enterprise Workshop. Currently, the program is supported by eighteen foreign chambers of commerce in Japan, including the United States of America, Australia, New Zealand, Austria, Belgium, Luxembourg, Britain, Canada, Denmark, Finland, France, Germany, Ireland (represented by Enterprise Ireland), Italy, the Netherlands, Norway, South Africa, Sweden and Switzerland. The program also receives corporate sponsorship from members of the business community within Japan.
Scholarships Available for the 2019/20 Class!
FEW has partnered with JMEC to offer one full scholarship and two partial scholarships for FEW Members for the coming 2019/20 class! The scholarships are allocated on a first-come, first-serve basis.
Interested?
Get more details on the JMEC website
Join JMEC info sessions in September and October or 
Reach out to our Sponsorship Director via sponsorship@fewjapan.com, when you are ready to sign up.
The deadline for applying the FEW Member Scholarship is Thursday, October 10th.
*article from FEWJapan :https://fewjapan.com/lifelong-takeaways-through-jmec-program/