Congratulations to the Winning Teams of JMEC 23!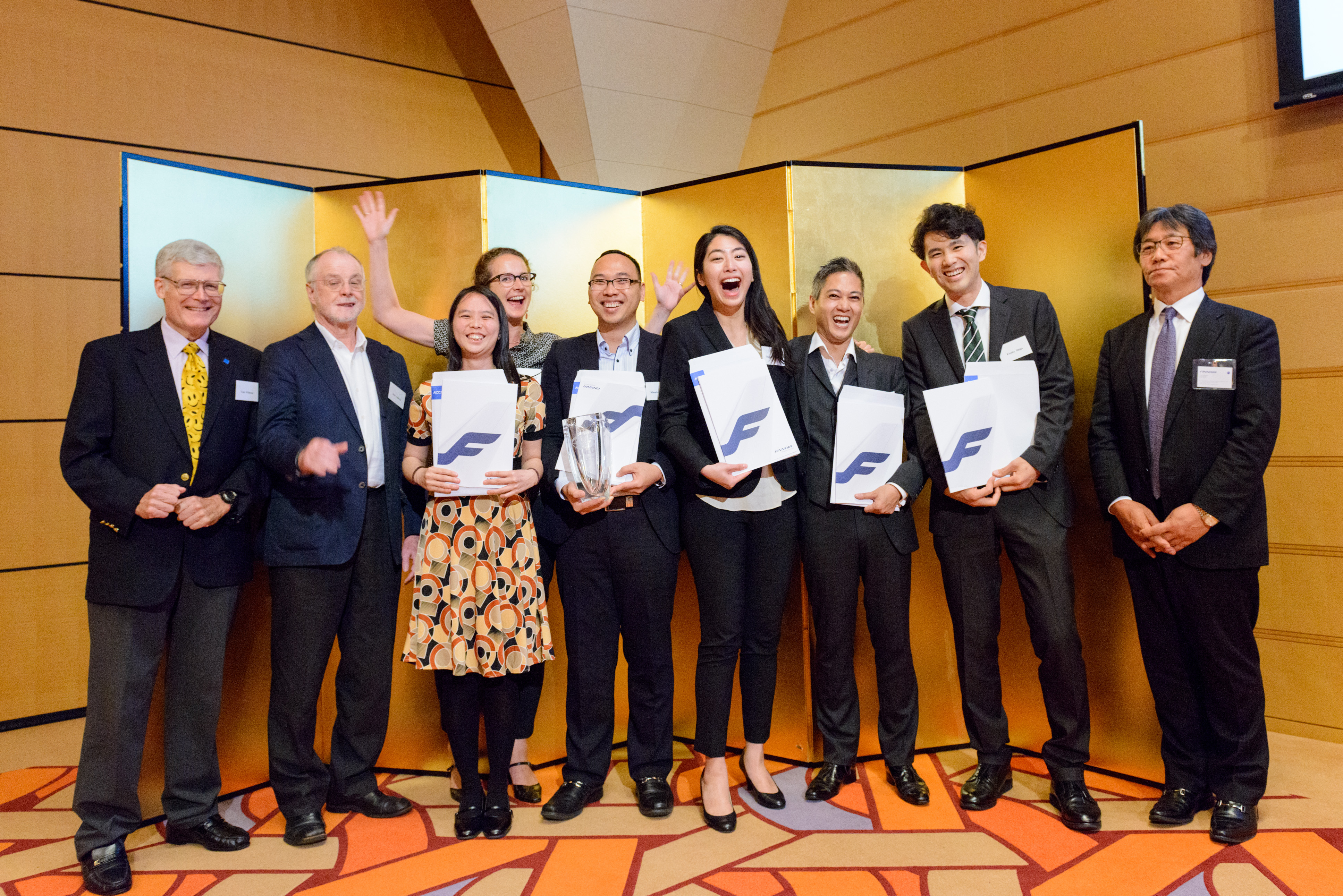 Congratulations to the Winning Teams of JMEC 23!
JMEC REVEALS BEST BUSINESS PLANS Judges praise winners of 23rd annual competition
TOKYO, June 20, 2017—Japan Market Expansion Competition (JMEC) has announced the winners of its annual accredited business plan competition at a high-profile awards ceremony.
JMEC Executive Committee Chairman Tom Whitson said: "JMEC 23 featured 62 highly motivated Participants from 15 countries who overcame language barriers and other challenges to cooperate in small teams to analyze market opportunities for JMEC Project Clients. They developed realistic business plans to crack the Japanese market—and their commitment and energy made them fun to work with."
Thirteen Project Clients—including small and medium-sized enterprises (SMEs), entrepreneurs, and global companies—had commissioned bespoke business plans from JMEC at a below market rate price. Some of the most successful foreign business leaders in Japan then trained, mentored, and advised Participants to develop and present the plans to three senior JMEC judges.
More than 220 guests—including senior executives and other leaders from embassies and foreign chambers of commerce in Japan—attended the awards ceremony and party at Tokyo American Club on June 7.
The three winners
Team Kokorozashi won first prize with their business plan for a new personalized nutrition project made by Royal DSM, a Dutch global science- based company active in health, nutrition, and materials.
Judges said: "This was overall a very impressive plan, and a well-rehearsed and delivered oral presentation."
DSM Japan President President Yuji Nakahara said: "The JMEC team came up with an idea that we had not thought about ourselves and, among other things, I was particularly impressed that the team had conducted interviews with a number of relevant business professionals—real people at real companies.
"I had not imagined that they would be able to go so deep into the business within such a short period of time. They raised the level of excitement within our company.
"I saw the real impact of their idea and work when one of our DSM staff members came running into my office saying: 'Look at this great idea from the JMEC team', and the level of excitement this generated within our company. "They helped us take a big step towards building our personalized nutrition business in Japan."
Team Spectacular won second prize with a market entry plan for Project Client DOCOsoft, an innovative developer of claims management, document management, and workflow software solutions for the global insurance and financial services markets, whose head office is in Dublin, Ireland.
CEO Aidan O'Neill said: "We congratulate Team Spectacular on their second- place prize in the JMEC 23 competition. As there were 13 teams in the competition, it makes their achievement all the more special. JMEC brings together highly motivated professionals willing to challenge themselves, and I can attest to the huge commitment and professionalism of our team.
"We were very pleased with the high level of detail, and the many industry players they interviewed. The JMEC business plan is also an excellent blueprint for expansion into other markets. We look forward to building upon the solid foundations laid by the JMEC team in preparation for an expansion of our growing fintech reach and capability."
Team Saber won third prize with a business plan for the Swedish Chamber of Commerce in Japan (SCCJ). General Manager Martin Koos said: "We are very pleased with the work of our JMEC team. Their work is thorough and well supported by research, data, and interviews with all of our stakeholders. I find the business plan extremely useful for taking our organization in a new direction."
Special Mention Awards
In addition to the prize winning teams, three other teams received special mention awards from the judging panel to recognize outstanding efforts.
Team Fox received the Best Presentation Award for an impressive oral presentation to the judges—in regard to a business plan project for Certus, a company based in Stockholm, Sweden, which creates innovative devices and business solutions for leading brands globally.
Team Foo! was given the 'Outside the Box - Lightbulb' Award in recognition of their creative thinking and ideas for a business plan project by Royal DSM, the Dutch global science-based company mentioned further above—which this year submitted two projects to the JMEC competition.
Team Lucky Sevens was awarded the 'Kanto-Sho Fighting Spirit' Award for their diligent and hard work on a challenging project for In Situ Energy AG—a Swiss company that develops innovative energy devices and applications for consumers.
Judge: close call
JMEC judge Rike Wootten—who has spent most of his 30 years in Japan in international finance—said it was a very close contest with just a 2.5% range between the top three teams' scores, with the oral presentations proving critical.
Prizes for winners
First prize was Finnair flight tickets to Europe and a one-year membership and an event voucher to the ACCJ; the second team was awarded Hewlett Packard Elitebook Folio G1 and a one-year membership to the ACCJ; and third-placed winners won stylish bags from Endeavor SBC Co., Ltd and an event voucher to the ACCJ.
About JMEC
Founded in 1993 by the Australian and New Zealand Chamber of Commerce in Japan, JMEC is a non-profit business planning skills-development training program supported by 18 foreign chambers of commerce in Japan. Over the past 23 years, JMEC has trained 1,190 young business professionals, many of whom have gone on to rise in their companies or start their own businesses.
Built around a business plan competition, JMEC provides classroom training followed by hands-on experience for up-and-coming managers living and working in Japan. To date, JMEC has provided 227 high-quality business plans to help companies entering or expanding in the Japanese market.
JMEC is internationally accredited by Pearson PLC—the world's largest learning company—as a Pearson Assured certified organization. Pearson Assured is an independent certification and international quality benchmark for organizations that design and deliver their own learning programs.
JMEC 24
The JMEC 24 program starts in August 2017 with information sessions for potential Participants, attended by JMEC alumni and staff. The program lectures start November 4, 2017.
JMEC: www.jmec.gr.jp
Media enquiries:
Simon Farrell
Custom Media 03-4540-7730 simon@custom-media.com
General enquiries: Trond Varlid
JMEC Program Director 080-4368-2025 info@jmec.gr.jp